Age of the Scott Lake community:
3/29/1962
Last Glacial Period & The Formation of Scott Lake, 16,825 years ago
[expand title="Click here to read about the Glacial Period."]
The story of Scott Lake begins some time around the year 16,825 BP (Before Present – Defined as number of years before 1950). The area where Scott Lake is today was covered by the Cordilleran ice sheet. The period of time when the Cordilleran Ice Sheet extended south of the Canadian Border, is known locally today as the Vashon Glaciation. It lasted from 19,000 to 16,000 BP. The Cordilleran ice sheet started up in Alaska and Canada, and ended just a few miles south of where Scott Lake is today.
The climate in the local area was very cold and dry. Average year-round temperatures were around 6°C (11°F) colder than in present times. This had to do with the Earth being in a more elliptical orbit. The Earth was closest to the sun in the Northern Hemisphere's summer, and furthest in the winter. This was opposite to the way it is today.
Even though the climate was significantly colder than it is today, it still wasn't cold enough to keep the ice frozen throughout the year. There was more summer thawing than there was winter freezing. But the ice was pushing in from the north faster than it was melting. The area where Scott Lake is today was buried under hundreds of feet of ice for approximately 250 years (from about 17,075 to 16,825 BP).
According to Tim Walsh, the Washington State Chief Geologist, when the climate began warming and the ice sheet started receding, a chunk of ice detached itself from the ice sheet. The melting ice sheet produced streams which carried sediments down to the chunk of ice. Those sediments partially buried the chunk of ice. The chunk of ice left a depression in the ground called a kettle. As the ice chunk melted, the kettle began filling up with water and becoming the kettle lake we now call Scott Lake.
A common misconception is that this period of time was called the ice age, and that we no longer live in an ice age. In actuality, the current ice age began around 2,588,000 years ago and still continues today. Its called the Quaternary Glaciation. Its been a time of cold glacial periods and warmer interglacial periods. But all of the current ice age has been colder with more polar ice than many other parts of Earth's history.
Scott Lake was formed during the most recent glacial period of the current ice age. Today, we live in an interglacial period within the ice age. Written human history on the lake comprises of about the last 1% of the lake's existence to date. The Scott Lake community has sat next to the lake for the last 1/3 of a percent of the age of the lake.
Here's some information about the Pacific Northwest during the last glacial period: http://www.fs.fed.us/rm/pubs/rmrs_gtr292/1992_whitlock.pdf
Here's a map showing the geologic history of the Scott Lake area: http://www.dnr.wa.gov/Publications/ger_gm72_geol_map_maytown_24k.pdf
[/expand]
First known written history on Scott Lake, August 21, 1853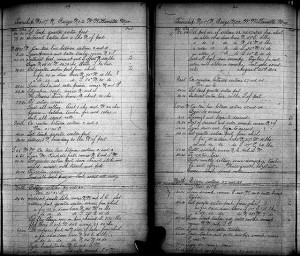 This is the first known written record that mentions the lake. The lake had no known name at the time. It was a land survey done by Josiah W. Preston on August 21, 1853. This is noted under Field notes of land surveys in Washington, Volume 3, Pages 59 and 60. The survey took place during the early part of Washington's territorial period. It was over a year before the Medicine Creek Treaty was signed. This means that the lake we now call Scott Lake was still within the territory of the Nisqually Tribe when this survey was done.
| | |
| --- | --- |
| North | Between sections 33 and 34 |
| | Var. 20° 30′ E |
| 39.60 | Intersect small lake, course N.W. and S.E. Set |
| | witness post, quarter section corner, from which |
| | a fir 12 in. diam bears N. 42° W. 20 lks. |
| | A do. 14      do.    do.    S. 26°  E. 45  do. |
| | Set flag thence over in line chained E. 8.75 lks. |
| | Flag bears S. 20½ W. dist. Across 23.40 chs. |
| 63.00 | Set witness post, on N side of lake, from which |
| | a fir 24 in. diam. Bears N 26° E. 16 lks. |
| | A do. 40      do.      do.   N 30° W. 14 do. |
| | Enter burnt timber N.E. and S.W. |
| 73.50 | Leave   do.    do.    And enter swamp E & W. |
| chs. lks. | |
| 80.00 | Set post, cor. Of sections 33, 34, 27 and 28. From which |
| | an alder 10 in. diam. Bears N. 47°E. 3 lks. |
| | A    do    6         do.      do.   N. 56°W. 18 lks. |
| | A cedar  10        do.      do.   S. 55°W. 28 do. |
| | An alder 8         do.      do.   S. 10°E. 31 do. |
| | Land all level, some swampy. Timber, fir, and |
| | Cedar, with alder in swamps. Soil, good second |
| | rate.                                                  August 21st 1853. |
do. – means ditto, which means its saying the same thing as above

chs. – means chains, a chain is a surveyor's unit of measure equal to 66 feet, or one 80th of a mile

lks. – means links, a link is a measurement of one 100th of a chain or 7.92 inches
On page 72 of Volume 3, in a general description of the township it states, "The quality of the soil is rather below the common average of the Townships adjoining the highland being of a gravelly nature, and the swamps so low and wet that they are unfit for cultivation as very few can be drawed [sic] at all. Sections 19, 20, 28, 29, 30, 31, 32 and 33 were deemed unfit for cultivation and impracticable to survey being an immense swamp, and cranberry marsh, which in the driest season is mostly covered with water. There are but few settlers, and they are the oldest in the country, having settled in 1848."
[/expand]
The arrival of the Scotts and other pioneers, 1860s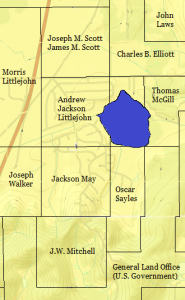 Property owners in and around the present day Scott Lake community, 1871. This is superimposed over a present day (2014) map.
An early map titled Thurston Taxable Land, 1871 shows J.M. Scott as a land owner next to the lake. According to the Bureau of Land Management site http://www.glorecords.blm.gov/search/, those owners were Joseph M. Scott and James M. Scott. James and Joseph Scott were granted the land patent on their 160 acre (64.7 hectare) homestead on September 1, 1869. They were the first people to obtain a land patent on any land next to the lake. If they got their patent in 1869, that means that they first started homesteading the property in 1864 or before because a person or family had to live on the homestead at least five years in order to get a land patent.
The United States Census of 1880 shows that James was not living on the property, only Joseph Scott and his wife Mary lived there. At this time, it is unknown what James's relation was to Joseph. According to the 1880 cencus, Joseph's occupation was "Farmer", and Mary's occupation was "Keeps House". According to the Thurston Regional Planning Council's historic inventories (http://trpcmaps.org/wp-content/uploads/historic/HistoricInventory_0106.pdf), Mary was not his first wife, and that he divorced Nancy in 1879.
Joseph M. Scott was born in Isle la Motte, Grand Isle County, Vermont. He was most likely born sometime between 1824 and 1832. His father's name was Cornelius and his mother's name was Laura. Laura's maiden name was Hall. He had at least three brothers. Their names were Albert, Ethan, and Julius. He had at least four sisters. Their names were Abigail, Adelina, Calista, and Roxanna.
The Scotts lived through the rainiest 12 month period in recorded history. From February 1879 to January 1880, the Olympia Army Signal Corps recorded 87.18 inches of rain.
Joseph passed away on February 18, 1885 in the Olympia area. The Scott property was sold to William and Sarah Littlejohn Wright around that time. (Source: Thurston Regional Planning Council's historic inventories)
Andrew Jackson Littlejohn was a homesteader that came shortly after the Scotts' arrival. He was one of their neighbors. His property was 160 acres. Half of the Scott Lake Community (+/-) used to be Andrew Littlejohn's property. The census of 1870 shows that Andrew Littlejohn's property was worth $800 (that's five dollars an acre).
Independence School, 1891 to 1918
There was a one room school called Independence School that served the Scott's Lake area from 1891 to 1918. It was at one of the Case Road intersections (Source:A Rich Heritage, Tumwater Area Schools by Don Trosper, page 33). According to a google map on historic schools in Thurston County, it's located on what's now Case Extension Road across the street from Scott Lake Grocery. https://maps.google.com/maps/ms?msid=201013474818666390304.0004c03d21bf83d8625d6&msa=0&dg=feature
Christmas Day shooting incident, 1899
This is what the January 2, 1900 Morning Olympian newspaper article said about the December 25, 1899 shooting. This article was written before January 1, 1923, so the copyright has expired and is in the public domain.
A NEIGHBORHOOD ROW
It Will Engage Justice Schomber This Afternoon
The results of a neighborhood quarrel that took place on Scott's lake, near South Union, on Christmas day will be investigated by Justice of the Peace Schomber this afternoon. The case comes before the justice in the shape of a complaint sworn to by Fred Green, who charges Robert Nicholson with shooting at four boys on that day, the youngsters being Arthur Green, George Green, Thomas Pearce and Terrance Pearce, without provocation. It is also charged that on the following day Nicholson threatened to do bodily harm to Ralph Pearce and his son, Terrance Pearce. It appears from what can be learned that Scott's lake is a favorite hunting resort for the boys of that neighborhood and that Nicholson, who lives on its banks, is annoyed greatly thereby. On Christmas the boys as usual were hunting on the lake and it is said Nicholsoon fired the contents of a shotgun at them and the shot fell all around them. For his part Nicholson says he fired over their heads to scare them away. The next day Ralph Pearce and his son were hunting on the same lake and it is alleged Nicholson told them if they did not at once desist he would shoot them. It is known that as a result of this the elder Pearce and Nicholson almost came to a personal encounter. Justice Schomber at 1 o' clock today will endeavor to get at the straight of the whole matter and mete out justice accordingly."
Next day's article written January 3, 1900
IN BONDS OF $200
Robert Nicholson Must Keep the Peace for One Year
Robert Nicholson, of South Union, was arraigned before Justice Schomber yesterday to answer to the charge of assault with a deadly weapon alleged to have been committed on Christmas day near South Union. Beofe the hearing began a consultation between the county attorney and Nicholson's attorney resulted in the decision not to prosecute the charge against Nicholson, who is an old man and has a violent temper when aroused. It was determined, however, to have Nicholson bound over to keep the peace for one year and he was also compelled to be responsible for the costs. Justice Schomber therefore put him under a bond of $200 to keep the peace and taxed $15 costs against him. During the year referred to the defendant will have the charge of assault with a deadly weapon hanging over him, and should be again break the peace he will be prosecuted under it. He was given until January 15 to secure the bond and complete paying the costs, in order to accomplish this it is said he must mortgage his home at Scott's lake, as he is a poor man and has no other resources. On the whole, with such a charge against him he got off very lucky."
While the newspaper article referred to him as "an old man", he was only 55 years old according to the census of 1900.  However, 55 was considered to be an old age during those times.  The average age of death in the United States in 1900 was 47 years old (46 for a man, 48 for a woman).
The news article did not talk about his family.  However, the census shows that he had a 42 year old wife Mary, and seven children living with him.
Baptism at Scott's Lake, 1907
On Sunday, March 10, 1907, there was a baptism at Scott's Lake. Here's what the Morning Olympian article stub from March 12th said.
"Rev. E. Slimp of South Union baptized Mr. and Mrs. Vollmer and Miss Pearl Davis in Scotts Lake Sunday."
Reverend E. Slimp was pastor of a church that does not exist anymore. This should not be confused with the South Union Church of God which was built decades later. Very little is known about the first South Union Church. Nobody even knows the exact location or if the building still exists today.
Retired dentist, P.W. Bragden living at Scott's Lake, 1914
This is what the Morning Olympian article from March 4, 1914 said.
"DR. P. W. BRAGDEN IS PARTIAL TO THURSTON
Dr. P. W. Bragden, who recently purchased a 40 acre tract of land on Scott's Lake, seven miles south of Olympia was in the city Monday. Dr. Bragden, who is a dentist and who was a former school fellow of Dr. P. H. Carlyon at the Philadelphia Dental College in 1883, was obliged to give up his profession on account of ill health. "I traveled a great deal through Oregon and Eastern Washington." Dr. Gragden [SIC] said, "in search of some locality that would suit me better than Puget Sound, but I am back again, satisfied that such a place is not to be found. Puget Sound suits me.""
Game warden visits Scott's Lake, 1920
This is a quote from the newspaper article titled SPORTSMEN PLAN PICNIC AT LONG LAKE NEXT MONTH from the Olympia Daily Recorder written May 26, 1920.
"A committee from the association accompanied by Ben King, county game warden, visited what is known as Scott's Lake to ascertain whether it would be a favorable lake for the planting of trout and after considering the matter the association went on record as recommending to the game commission that it make steps to stock this lake in the near future. This lake lies some nine miles south of Olympia near South Union."
According to The Morning Olympian article from July 1, 1920, the sportsmen and the game commission placed 60,000 silver trout in Scott's Lake.
Wynne Bragdon's picnic, 1920
There was a picnic with 23 guests at a house on Scott Lake on Friday, June 4, 1920. Here's what the newspaper Olympia Daily Recorder said about it the next day.
"Miss Wynne Bragdon entertained with a most delightful picnic Friday evening at the home of her mother, Mrs. G.W. Bragdon, on Scott Lake, about 10 miles south of Olympia. The party motored out late into the afternoon and upon their arrival were served with supper outdoors. Following the picnic games were enjoyed and later in the evening the young people gathered about a large bonfire and had a merry time singing and story telling. Those who enjoyed the evening were Gladys Holcomb, Ruth Elberson, Betty Lamborn, Dorothy Rose, Ruth Peters, Helen Lord, Maxine Holcomb, Mary Owings, Virginia Kuhns, Miriam Elwait, Helen Littlejohn, Wynne Bragdon, Orval Kisor, Oscar Bulluck, Merritt Mills, Arthur Marshall, Charles Lyman, Ray Fleaharty, Waldo Stentz, Ottmar Kotick, Charles Tyler, Virgil Baker, Edwin Allen and Ernest Barnes."
Early pioneer, Andrew Jackson Littlejohn passes away, 1922
This is what the Morning Olympian article from May 13, 1922 said.
"A.J. LITTLEJOHN, THURSTON PIONEER, DIES AT AGE OF 78
Andrew J. Littlejohn, age 78, a pioneer of Thurston and Pierce Counties, died Thursday afternoon at 4:15 at his home in Tacoma. He is survived by his widow, Mrs. A. J. Littlejohn, one brother, William Littlejohn of this city, and a sister, Rebecca J. French of Grand Mound. Funeral services will be held Saturday afternoon at 3 o' clock from the Buckley-King company and will be in charge of lodge No. 68 F. & A. M. of Tacoma, of which deceased was a member. Burial will be at Oakwood cemetery.
Mr. Littlejohn was born in Indiana in 1844, and crossed the plains by ox team when he was 8 years old, in 1852. The family first settled in what was then Vancouver, Oregon, now Vancouver, Wash., and Mr. Littlejohn afterwards came to Thurston County where he spent 30 years, moving to Tacoma 20 years ago, where he engaged in the real estate business."
4-H camp activity, 1929
From August 13, 1929 to August 18, 1929, the Grand Mound 4-H Community Club held a summer camp at Scott Lake. The camp had swimming and boating during the day, and campfire meetings at the end of the evenings.
Scott's Lake/Scotts Lake/Scott Lake – Name

Enumeration district map from 1940 showing Scotts Lake
It is not quite certain when the lake began being called Scott's Lake or Scotts Lake, but presumably sometime after the Scotts moved in circa 1864.  The name Scott's Lake is known to be in newspaper articles from 1891 to 1920 (uncertain if there are any articles using the name Scott's Lake before 1891).  Map makers have always tended to leave out apostrophes in names.  The name Scotts Lake is known to be on maps from 1914 to 1946.  The Kroll's Map of Thurston County Washington, made in 1914 shows Scotts Lake.  It is quite possible that there are earlier maps out there showing that name.
1920 seems to be a turning point for the lake's name in the newspaper articles.  Prior to 1920, almost all of the newspaper articles use the name Scott's Lake.  During 1920, some of the articles say Scott's Lake, and some say Scott Lake.  After 1920, they all seem to say Scott Lake.  It is likely that the newspaper was reflecting a change in what the general public was calling the lake.  However, it wasn't until about 27 years later, that maps began to use the name Scott Lake.  The last known map to use the name Scotts Lake was the Metsker's Thurston County Map from 1946.  All the previous known maps use the name Scotts Lake.  The first known map to use the name Scott Lake was the U.S. Dept. of Agriculture soil survey map.  It was issued in 1958, but it was a 1947 map.  All the following known maps seem to use the name Scott Lake.  It is possible that during the 27 years between 1920 and 1947, map makers wanted to inform people of the proper name.  It may be that in 1947, the map makers were a different generation that had no sentimental attachment to the old name.
Today (as of 2014), the Washington State Board on Geographic Names only recognizes the name Scott Lake as an official name, but it still lists the name Scotts Lake as a variant name.
It seems to be that this type of name change is not unique. A nearby example would be Puget Sound. It used to be called Puget's Sound.
The Collins Farm
According to a July 19, 2006 article from the Chinook Observer, Gene and Jinx Collins and their little daughter Kathi rented and lived on a 398 acre farm at Scott Lake. Gene would buy and sell quarter horses. He and his daughter would shoe horses for $6.00 per head.
Inflation Calculator (1913 to present): http://data.bls.gov/cgi-bin/cpicalc.pl
Dan Moody tells about when he and his father Jack Moody would purchase and cut Christmas trees on the Collins farm to sell at their Christmas tree stand.
Formation of the Scott Lake community, 1962
In September 1961, a trust agreement was made between E. Clifford, J. Clifford, Richard C. Clifford, E. Clifford, B. Clifford, J. Clifford, C. Jennings, P. Jennings, J. Swanson, V. Swanson, Paul O. O' Reilly, and June O. O' Reilly to form the Scott Lake Development Company.
The Scott Lake Development Company purchased the land that the Collins family was living on to turn it into the Scott Lake community. Hugh G. Goldsmith surveyed and platted the land.
The community of Scott Lake officially began on March 29, 1962 at 3:35 PM PST (UTC -8). This converts to 4:35 PDT (UTC -7) under the current use of Daylight Savings Time. This is the date that the Scott Lake Maintenance Company filed with the state as a corporation. The people who formed the corporation were Benjamin M. Clifford, Edward A. Clifford, Richard A. Clifford, Charles B. Jennings, Paul O. O'Reilly, and J. E. Swanson, Junior.
At 4:00 PM PST/5:00 PM PDT (the observation closest to the moment that the Scott Lake community began), these were the current conditions at the Olympia Municipal Airport.
Temperature: 18.3°C (64.9°F)
Dew Point: -1.1°C (30.0°F)
Precipitation: None
Relative Humidity: 26.84%
Wind Speed: 6.8 mph (10.9 km/h)
Wind Direction: 70°
Percent Cloud Cover: 0%
Altimeter: 30.13″
Sea Level Pressure: 1020.3 mb
Visibility: 60 miles (95 km)
Source for weather info: http://mesonet.agron.iastate.edu/request/download.phtml?network=WA_ASOS
Wes Grogan helped lay the water pipes for the Scott Lake community. He was the local handyman and water meter reader for many years.
The second family to move to Scott Lake was Charley and Viola D. Johnston. They had their home built on Lake Shore Drive (now called 113th Way).
During the early years of being a community, McCorkle Road/Aldrich Road (now called 113th Avenue) had no bridge. The road intersected Interstate 5. You could actually get on and off the freeway at Scott Lake. The 1960 traffic report showed that only 8,600 cars went by Aldrich Road per day on the freeway. In 2016, 68,000 cars per day passed by Exit 95, and 63,000 passed by Exit 99.(Source for traffic info:http://www.wsdot.wa.gov/mapsdata/travel/annualtrafficreport.htm)
Scott Lake store, 1962 to present (2015)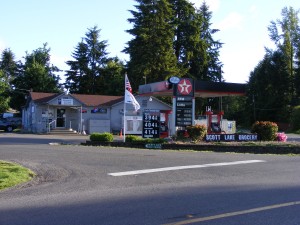 Lajos "Louis" and Ilona "Helen" Nozsar were the first owners of the Scott Lake store. They purchased the land from the Scott Lake Development Company for $3,595 dollars and signed the real-estate contract on August 1, 1962.
Louis and Helen did not pay someone else to build the store. They both built the store themselves. Helen said that they had a good time building the store. They began building in the fall and finished by spring of 1963. They opened the store in May of 1963. It was a roofing supply store called Nozsar Roofing. The store was opened seasonally from May to October each year. Louis would work the store in the morning and part of the afternoon. He would leave each day at 3:00 PM to go to work at the Goodyear tire plant. Helen would take over and work until 9:00 PM. Nozsar Roofing closed down permanently one October. There wasn't enough people in the area to provide business. Nozsar Roofing is remembered as being open for about three years. Ilona Nozsar currently (in 2014) goes by her real name, and no longer goes by the nickname of Helen. (Source: Ilona Nozsar)
The Thurston County Assessor records state on September 18, 1968, "NO ONE hERE – IS NOW BOARDED Up 9-18-68"
In 1968, David William "Bill" Monfort, Junior and Bertha Marie Monfort bought the store from Louis and Helen Nozsar for $5,500.
Bill and Bertha Monfort expanded the store and turned it into a grocery store and café. (Source: Ilona Nozsar, May 28, 2014)
Later on, Perry I. and Edna M. Law bought the store from Bill and Bertha Monfort.
When Perry and Edna owned the store, it was a store that sold sandwiches. The main customers were golfers. The sandwich business was unsuccessful, so they sold the store in 1975.(Source: Earl Haley)
Based on the descriptions given by Ilona Nozsar and Earl Haley, it is very possible that the Laws continued it as the very same store as the Monforts.
In 1975, Earl T. and Beverly A. Haley bought the store from Perry and Edna Law for $9,500. When Earl and Bev owned the store, it was called Haley's TV Service. On the sign, they had a comet above their name which was supposed to be Haley's Comet. Earl repaired and sold TVs at the store.
The store was not getting enough business so the Haley's expanded the store building sometime around 1977. (Source: Earl Haley)
Half of the store was a TV sales and repair shop, and the other half was a grocery store. Earl's wife Bev ran the grocery store part. Earl and Bev were devout Christians and didn't sell beer or cigarettes at the store.
In the last few years of the Haley ownership, they put up the Scott Lake Grocery Sign. It was then going under two names, Haley's TV Service and Scott Lake Grocery. (Source: Earl Haley)
In 1984, John Michael Easter & Jane Lee Easter and Ronald D. & Paulette D. Hoffmann bought the store from Earl and Bev Haley for $74,500. John was missing an arm. He lost it in combat during the Vietnam War. People say that John was a handsome man. On January 12, 1986, Dick Loomis – a store employee – carved his name into the bottom concrete step at the store when the concrete was poured.
"January 12, 1986
Dick Loomis"
The bottom step has since been refinished. But the inscription was there for +/- 25 years.
In 1988, Frank Davis, Junior & Yung Cha Davis bought the store from John & Jane Easter and Ronald & Paulette Hoffmann for $260,000. Frank and Yung made many improvements to the store.
In 1994, Sang Ki Lee & Hui Kun Lee bought the store from Frank and Yung Davis for $600,000. In 2000, Sang and Hui Lee were required by law to tear out the old gas pumps and put in new ones. The cost was somewhere around +/- $80,000. Sang and Hui Lee were the longest owners of the Scott Lake Store, owning it for 13 years.
In June of 2007, Richard and Young Jaqua bought the store from Sang and Hui Lee. During the first few months of the Jaqua ownership, Sang Lee would come to the store to assist with certain things. On August 19, 2008, Scott Lake Grocery sold a winning scratch ticket of $250,000 to a radio station DJ in Olympia.
In the time that Scott Lake Grocery has been a gas station (as of 2017), it has gone under four different brands, Mobile, BP, 76, Texaco, and Chevron.
Some of the former store owners have passed away…
July 3, 1989 – Bertha Monfort, one of the second owners (born July 3, 1914)
June 10, 1996 – Bill Monfort, one of the second owners (born January 24, 1910)
May 12, 2012 – Louis Nozsar, one of the first owners (born February 15, 1935 in Sur, Hungary)
Scott Lake Golf Course, 1964 to present (2014)
In 1964, Howard R. and Shirley M. Larson bought the land from the Scott Lake Development Company for $90,000. The official opening of the Scott Lake Golf Course was from April 30 – May 9, 1965. It began as an nine hole golf course. During the 1970s, it was expanded and turned into an 18 hole golf course. Half of the 18 hole golf course was only usable during the summer. During the rest of the year, it was too wet and muddy. It was expensive to maintain. Because of this, it was later turned back into a nine hole golf course.
In 1979, Derald Eugene "Eugene" Martin and Margaret A. Martin bought the golf course from Howard and Shirley Larson.
In 1982, Donald M. and Susan Barth bought the golf course from Eugene and Margaret Martin for $212,167.
In 1984, Frederick D. and Trudie J. Tuengel bought the golf course from Donald and Susan Barth for $330,000.
In 1989, Joel and Karen Boede bought the golf course form Frederick and Trudie Tuengel for $140,000. Joel and Karen Boede are the current owners of the golf course (as of 2014). They have been the longest owners of the golf course. On April 14, 2010, former golf course owner Howard Larson passed away at the age of 81. He was born on January 4, 1929.
Real-estate values, 1966
Ten years later in 1976, the owner of the Scott Lake Golf Course Howard Larson states that around 1966, the average price of a home in Scott Lake was about $10,000.
Formation of Scott Lake Water, 1973
On July 5, 1973, the water system was turned over to the board of directors. This was the day that Scott Lake Water formed.
Fire Stations 1975 to present (2017)
Click here to go to the fire station history page.
Change of road names, 1975
There was a county wide change of road names in 1975. It was done by an intern from New York named Harold Rothenstein and the county engineer Merle Kuehn. There was a meeting at the Scott Lake Community Center. Many people were opposed to the change, but they were told that the decision had already been made.
Scott Lake Road Names

Current Name

Former Name

Blooms Court
Blooms Court
Bogie Street*
Pine Street*
Bonavista Court
Vista Street
Bonavista Drive
Bonavista Drive
Bonniview Court
Boniview Street
Champion Court
Lakewood Court
Champion Drive
Lakewood Drive
Divot Drive
Divot Drive
Driver Street
Sunset Street
Entrée View Drive
Entrée View Drive
Fairway Drive
Fairway Drive
Green Court
Green Court
Handicap Court
Lakewood Court
Helm Court
Elm Avenue
Hilltop Court
Hilltop Court
Iron Court
no name
Lakeview Court
Lakewood Place
Link Court
Link Court
Par Court
Park Place
Rough Court
no name
Sandtrap Court
2nd Street
Scotlac Court
Lake Side Place
Scotlac Drive (West side of Scott Creek Dr.)
Prospect Avenue
Scotlac Drive (East side of Scott Creek Dr.)
Scotlac Boulavard
Scott Creek Drive
Scott Creek Drive
Scott Creek Loop
Scott Creek Drive
Shore View Drive
Shore View Drive
Trevue Avenue (West side of Scott Creek Dr.)
Trevue Street
Trevue Avenue (East side of Scott Creek Dr.)
Lake Shore Drive
Vantage Avenue
Vantage Avenue
Vantage Court
no name
Wood Drive
Wood Lane
113th Way
Lake Shore Drive
114th Avenue
Elm Street
114th Way (from Scott Creek Drive to Trevue Avenue)
First Street
114th Way (from 113th Way to Trevue Avenue)
Lake Shore Drive
118th Court
Scott Court North
119th Court
Scott Court South
123rd Avenue
Ridge Way
*Between being called Pine Street and being called Bogie Street, there was a period of time when it was called 113th Way. There were two 113th Ways running perpendicular.
Year 1976
According to an April 20, 1976 newspaper article from The Chronicle, the owner of the Scott Lake Golf Course Howard Larson said that the price of homes had greatly increased over the last 10 years. He said that the average price of a home had gone from $10,000 to $30,000. Even after factoring in inflation, that's a 71% increase in price. He says that 650 out of 700 lots had been sold, however not everybody is living in them. He says that the population of the Scott Lake Community was about 500.
The Deep Freeze of 1978-1979
In December 1978 and January 1979, there was a long and severe cold snap. Temperatures remained below freezing most of the time for about two weeks.
Deep Freeze of 1978-1979, Olympia Airport Temperatures

Date
Morning Low
Afternoon High
24 hour Average
December 25, 1978
24°F (-4°C)
39°F (4°C)
31.0°F (-0.6°C)
December 26, 1978
25°F (-4°C)
39°F (4°C)
30.8°F (-0.7°C)
December 27, 1978
19°F (-7°C)
38°F (3°C)
31.8°F (-0.1°C)
December 28, 1978
12°F (-11°C)
32°F (0°C)
24.1°F (-4.4°C)
December 29, 1978
5°F (-15°C)
27°F (-3°C)
14.8°F (-9.6°C)
December 30, 1978
3°F (-16°C)
21°F (-6°C)
14.1°F (-9.9°C)
December 31, 1978
-5°F (-21°C)
24°F (-4°C)
10.2°F (-12.1°C)
January 1, 1979
-8°F (-22°C)
26°F (-3°C)
14.0°F (-10.0°C)
January 2, 1979
17°F (-8°C)
34°F (1°C)
25.7°F (-3.5°C)
January 3, 1979
18°F (-8°C)
38°F (3°C)
29.5°F (-1.4°C)
January 4, 1979
14°F (-10°C)
40°F (4°C)
32.8°F (0.4°C)
January 5, 1979
4°F (-16°C)
41°F (5°C)
22.5°F (-5.3°C)
January 6, 1979
3°F (-16°C)
40°F (4°C)
21.2°F (-6.0°C)
January 7, 1979
6°F (-14°C)
35°F (2°C)
18.4°F (-7.5°C)
Source for table information: http://weathersource.com/past-weather/weather-history-reports/free
The freeze began on Christmas Eve at about 6:00 pm. By December 30, 1978, Scott Lake was frozen over thick enough to ice skate on.
New Years Eve night was bitterly cold. The new year of 1979 was ushered in with frigid weather. The temperature at midnight was 2°F (-17°C). Over the course of the night, the temperature continued to fall. By morning, the temperature at the Olympia Airport reached -8°F (-22°C). This was the coldest temperature on record for the Olympia Airport, with records dating back to 1941. This broke the old record of -7°F (-22°C) from January 27, 1972. Temperatures that morning were much colder in the Scott Lake/Tumwater vicinity than elsewhere in Western Washington.
Morning Low Temperatures in Western Washington for January 1, 1979

Location
Morning Low
Aberdeen
17°F (-8°C)
Bellingham
9°F (-13°C)
Centralia
1°F (-17°C)
Elma
17°F (-15°C)
Everett
11°F (-12°C)
Oakville
0°F (-18°C)
Port Angeles
14°F (-10°C)
Portland, OR
14°F (-10°C)
Seattle
18°F (-8°C)
Shelton
7°F (-14°C)
Tacoma
11°F (-12°C)
Tumwater
-8°F (-22°C)
Vancouver, BC
12°F (-11°C)
Victoria, BC
13°F (-11°C)
Over the course of the freeze, some residents had broken pipes. The freeze was interrupted with a brief thaw on January 4. This exposed the problem, as broken pipes began to leak. This is what longtime resident Clara Jacobson wrote on January 4, "Lawr came home this evening and said the shed was flooding. A water pipe had frozen & cracked. There was water all over. Mother & Daddy came over to help. Mother watched the kids while I cleaned things. Lawr and Daddy worked at stopping the leaking. We called Wes Grogan (the local handyman & water meter reader) to come shut off the water. They turned off the Irish's by mistake. But it took only a short while to cap the pipe."
The freeze ended on January 8 at about 11:00 am. The average temperature for the entire cold snap was 23.1°F (-4.9°C).
Total solar eclipse, 1979
On February 26, 1979, there was a total solar eclipse. That is when the moon completely blocks out the sun turning it from day to night for a few minutes. This is an extremely rare event averaging only once every 375 years for the same location. It doesn't occur at regular intervals. Sometimes it's shorter and sometimes it's much longer between solar eclipses. This total solar eclipse was the first to be seen in Scott Lake since 1918 and the last to be seen until 2169.
This is what long time Scott Lake resident Clara Jacobson wrote about the event. "Today we had a total eclipse at 8:45 A.M. I didn't look at it but Lawr did. Hope he doesn't get any eye injury. Evan wasn't very impressed with the growing darkness. Jeff slept through it."
Plane crash, 1991
Lawrence Jacobson was pushing his son Andy Jacobson on the baby swing on August 4, 1991 at the Scott Lake park. Lawr said to Andy, "Look Andy, an airplane." People noticed that the wheels were below the floats as the plane was landing on the lake. Then, the plane flipped over into the water and made a big splash. People on boats came out to help and rescued the pilot. Fortunately, the pilot wasn't hurt. According to the newspaper article from The Olympian newspaper article the next day, it was a 1947 RC-3 Republic CB airplane.
Ice storm, 1996
On December 26, 1996, freezing rain started falling. The freezing rain coated trees and power lines. It took out the power. It was the first known ice storm of its size to ever hit the area (however records of ice storm severity don't go back very far). The power was out for about six days.[/expand]
Nisqually Earthquake, 2001
[expand title="Click here to read about the Nisqually earthquake."]
On February 28, 2001 at 10:54 AM PST came the biggest earthquake in nearly 52 years. Its epicenter was at Anderson Island. It lasted about 40 seconds, and the shaking in the Scott Lake vicinity reached 18 cm/s (0.65 km/h or 0.40 mph). The acceleration of the shaking reached 16% of the force of gravity. The energy released during the earthquake was 1×1015 joules, making it a magnitude of 6.8. As big as the quake was, Scott Lake did not lose its power. The earthquake did cause damage to some homes and left cracks in some of the roads. One of the residents on 113th Way lost his $2,000 laptop computer. Another resident on 113th Way had his chimney damaged. Even people who got off lucky as far as damage still had a clean up job, with lots of items all over the floor.
Source for earthquake intensity information: http://earthquake.usgs.gov/earthquakes/shakemap/pn/shake/0102281854/[/expand]
New dock, 2004
[expand title="Click here to read about the new dock."]
In summer of 2004, a new swimming dock was put in. Its cost was $12,000.
[/expand]
Hanukah Eve Windstorm, 2006
[expand title="Click here to read about the Hanukah Eve windstorm."]
Powerful winds blew steady from the evening of December 14, 2006 to the early morning of December 15, 2006. This may have been the biggest wind storm in 44 years. Flashes of light in the distance from exploding transformers lit up the night sky. For some reason, the transformers made no noise when they exploded.
The KGY radio station in Olympia was the closest known place that was measuring wind speed during the strongest part of the storm. The power was out at many other places. According to The Olympian article, the KGY radio station recorded a peak gust of 78 mph (126 km/h).
School was canceled the next day. A majority of the Scott Lake Community lost electricity for about three days. 113th Way and a small part of 114th Way were without power for 5 ½ days. The weather after the storm was relatively cold, with nights dipping below freezing. Many people had their wood stoves and generators going.[/expand]
Heat wave, 2009
[expand title="Click here to read about the 2009 heat wave."]
The summer of 2009 had a major heat wave.
Heat Wave of 2009, Olympia Airport Temperatures

Date
Low °F
High °F
July 26, 2009
56°F (13°C)
90°F (32°C)
July 27, 2009
61°F (16°C)
97°F (36°C)
July 28, 2009
63°F (17°C)
101°F (38°C)
July 29, 2009
64°F (18°C)
104°F (40°C)
July 30, 2009
58°F (14°C)
95°F (35°C)
July 31, 2009
56°F (13°C)
90°F (32°C)
August 1, 2009
53°F (12°C)
91°F (33°C)
August 2, 2009
54°F (12°C)
92°F (33°C)
The temperature hit 104°F (40°C) on July 29, 2009 at the Olympia Airport. As of 2017, this was tied as the hottest temperature on record along with 104°F on August 9, 1981 at the Olympia Airport. A couple of neighbors on 113th Way had unofficial readings of 107°F.
[/expand]
The Snow Storm and Ice Storm of 2012
[expand title="Click here to read about the snow storm."]
15.2 inches (38.6 cm) of snow fell in Scott Lake from January 14 through the 18th. There was 12.1 inches (30.8 cm) of snow on the ground in Scott Lake on January 18, 2012. The lowest temperature reached at the Webster Nursery weather station (called Tumwater SW) on 93rd avenue during that period was 21.4°F (-5.9°C). Current conditions and climatological information for Tumwater SW and other AgWeatherNet stations can be found at http://weather.wsu.edu/awn.php. Many young people were on their four wheelers driving around in the snow. Other people enjoyed free skiing and sledding.
On the evening of January 18th, an ice storm began. At about 6:00 PM, the freezing rain began falling. It lasted until about 10:00 AM of January 19th. The freezing rain lasted 16 hours. In that time, 0.82 inches (2.08 cm) of freezing rain fell at the Olympia Airport. This was the second known time that an ice storm of this size hit the area. During the freezing rain, temperatures ranged from 29.2 to 30.9°F (-0.6 to -1.6°C) at Webster Nursery.
The freezing rain left a thick coating of ice on the trees, bushes, and roads. Many branches broke and even whole trees broke in half overnight under the weight of the ice accumulation on top of the snow already on the trees. The power in Scott Lake went out around 7:30 AM on January 19th. That morning, the Emergency Alert System was activated with an ice storm warning.
Even after the freezing rain stopped, branches continued to break all day. The coating of ice did not melt away until the afternoon of January 21st.
During the power outage, you could hear the sound of people's generators running outside. Scott Lake Grocery was closed throughout much of the outage. During the power outage, outside temperatures ranged from 27.6 to 47.7°F (-2.5 to 8.7°C).
The power came back on January 23rd around 11:00. The power was out for about 4 ½ days. For those who didn't have a wood stove, by the end of the power outage, indoor temperatures reached 40°F (4°C) in even the most insulated homes.
The clean up from the storm took weeks. The parking lot at the Scott Lake park was designated as a dump spot for all residents of Scott Lake. The pile grew over the weeks until it was hauled away on March 1.[/expand]
Scott Lake's 50th Anniversary of becoming a community, 2012
[expand title="Click here to read about the Anniversary."]
On March 29th, 2012, the community of Scott Lake turned 50 years old. There were big plans for celebration, but they didn't happen. The only thing that happened was cake being served at the annual board meeting.
[/expand]
Naming of the Scott Lake ball field
[expand title="Click here to read about the ball park dedication."]
Patrick Hunt, who worked for the Scott Lake Maintenance Company for 40 years passed away at the age of 74 on May 19, 2013. He was born February 20, 1939. The ball field was named Patrick Hunt Ball Field in his honor.
Launching of the Scott Lake History Webpage, 2014
On May 23, 2014, Nathan Reitz launched the Scott Lake History Webpage. Andy Jacobson was the main person involved in creating the webpage and doing research. Others who helped were Clara Jacobson who did some of the research, Jeff Jacobson who helped with some of the computer work, and Lawrence Jacobson who added his knowlege about the community.
Canadian Smoke, 2017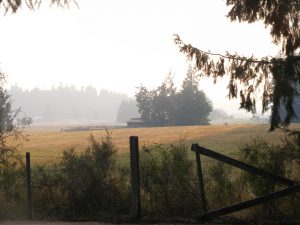 View of smoke filled skies from Shoreview Drive, August 9, 2017Summer of 2017 was very smokey.  It was a hot and dry summer that led to the worst fire season in the history of British Columbia, with about 4,700 square miles (12,200 square kilometers) burned. For several weeks off and on, British Columbia and Washington were covered in a cloud of smoke.

Scott Lake History by Andrew Scott Jacobson is licensed under a Creative Commons Attribution-NonCommercial 4.0 International License.