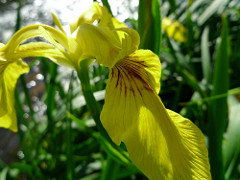 Yellow flag iris is an invasive ornamental perennial that is a problem in many states and other countries. It will sicken livestock if ingested and is generally avoided by herbivores. Contact with its resins can cause skin irritation in humans.
As reported in our annual meeting, having this noxious weed on your property could lead to fines by the county, decreased property value, and negative impacts to the usability of our lake. As such, we are asking for your help in identifying and removing this invasive species if it is found on your property.
If identified, and you are removing this weed, please take precautions, as the saps from this plant can cause serious skin irritations or burns.  Care must also be taken when disposing of this plant.  Please do not put it in the yard waste disposal bin, as this will only cause further spread.  Instead, please place it in a sealed bag, and place it in the standard refuse bin.
For more information, please see the county's Noxious Weed Control site.