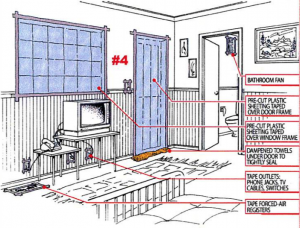 Your house provides a good first-layer barrier against airborne chemical agents.  Additional protection is achieved by tightly sealing one room of your home that you have pre-designated and prepared.
Designate a "safe' room, one that can be easily and quickly sealed using plastic sheeting and duct tape.
Cut pieces to fits windows, vents, doors; store in in a bin with other supplies: blankets, water, snacks, batter-operated radio, etc.
For complete information go to  http://mil.wa.gov/emergency-management-division/preparedness/personal and find the Prepare in a Year Booklet