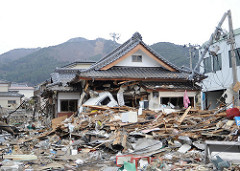 All of Washington State has the potential of being impacted by a major earthquake.  Earthquakes strike suddenly and without warning.  When they occur, they cause the ground to undulate and shake, perhaps violently.  Buildings – and their contents – are vulnerable to this rocking and rolling.  Fortunately, experts teach how to secure homes to their foundations, and contents to wall studs.
Identify potential hazards that will need to be bolted/strapped: such as water heater, tall furniture, cabinets; items that are heavy, breakable, expensive, precious, and/or toxic.
Make a timeline to complete these safety projects.
Watch our videos
For complete information go to  http://mil.wa.gov/emergency-management-division/preparedness/personal and find the Prepare in a Year Booklet and the Getting Ready Home Booklet.