From your Thurston County Environmental Health Division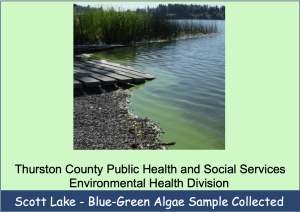 Dear Scott Lake Residents and Lake Users,
An algae sample was taken Monday, October 22, 2018 at Lake St. Clair. Toxin results should be available later this week or early next week, at which time we will send out an email with those results.
Please avoid contact with lake water in areas with visible algae or algae scum on the surface. Do not drink the lake water. Keep pets and children out of the water if there is an algae bloom. When fishing, it is safest to catch and release any fish caught during an algae bloom.
Please pass this information on to your neighbors. More information about blue-green algae can be found on the Environmental Health website.
If you have any questions please feel free to call us at 360-867-2598.
Sincerely,
Water Quality Staff
Paula Cracknell ~ 360-867-2598
Thurston County Public Health & Social Services
Environmental Health Division ~ 360-867-2626
412 Lilly Road NE Olympia, WA 98506