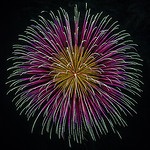 Only Safe and Sane fireworks permitted – NO ILLEGAL FIREWORKS
Fireworks may be lit within 15 feet of lake shore in designated area.  NO fireworks in ball field, Community Center parking lot, or tennis court.
Bring your own platform to launch fireworks. Tables, docks, and other park equipment MAY NOT be used.
Bring a bucket to pick up ALL fireworks debris.  Dumpsters available at park kitchen area.
Anyone carelessly setting off fireworks will be asked to leave.
No one under the age of 12 may set off fireworks without parental supervision.
No fireworks after 11:00 PM.
County Ordinance 6.68.055
Dicharge restricted to:
July 3, 9:00 AM – 11:00 PM
July 4, 9:00 AM – 11:00 PM